'Let Freedom Ring': Marian Anderson's Monumental 1939 Easter Sunday Concert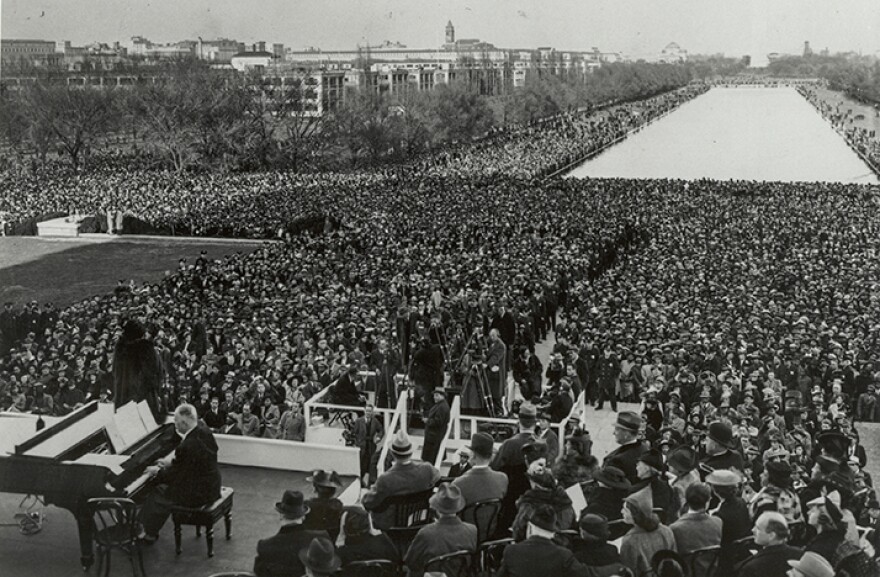 I want you to buy this CD.
On Easter Sunday 1939, contralto Marian Anderson (1897-1993) sang a concert from the steps of the Lincoln Memorial in Washington, D.C., to a crowd of an estimated 75,000.
By 1939, Anderson had sung in the great concert halls of Europe, South America, Asia and parts of the United States. She was already a household name, through her many concert tours, radio broadcasts and a famous quote on her artistry from conductor Arturo Toscanini: "This is a voice one hears once in 100 years."
A world famous American classical singer, at home in Carnegie Hall and called by The New York Times, "one of the great singers of our time," wanted to present a concert in Washington, D.C.
The problem?
The only auditorium that could accommodate the crowds was Constitution Hall, owned and operated by the National Society of Daughters of the American Revolution. The DAR had a "no blacks" policy. Constitution Hall would not be made available to Anderson, or any other African-American.
The furor reached Eleanor Roosevelt, who promptly resigned from the DAR, putting this incident on the front pages. It is thought that the first lady's intervention, which was not universally admired at the time, led to the Easter Sunday concert in 1939 that followed Anderson for the rest of her life:
Newsreels captured the occasion. Now, nearly 80 years later, the recording of this concert has been released on CD in a sonically superb edition, along with a 1961 recording of a concert in Copenhagen.
It's wonderful to have the entire Easter Sunday presentation available in beautifully restored sound. We hear the NBC live broadcast of April 9, 1939, including remarks form Harold Ickes, FDR's Secretary of the Interior. Anderson sings America, Franz Schubert's Ave Maria, an aria from Gaetano Donizetti's La Favorita and two spirituals.
I especially appreciate the inclusion of the 1961 Copenhagen concert on this CD release. In 1961, Anderson was in her 60s. No one pretends she was in her vocal prime. Hearing this concert, however, makes it easy to understand the impact Anderson had with her voice alone, not to mention what she came to mean to the world in the Jim Crow era.
You'll hear that Toscanini got it right—Anderson's is indeed "a voice heard once in 100 years."