Dublin's scooter pilot program rolls into town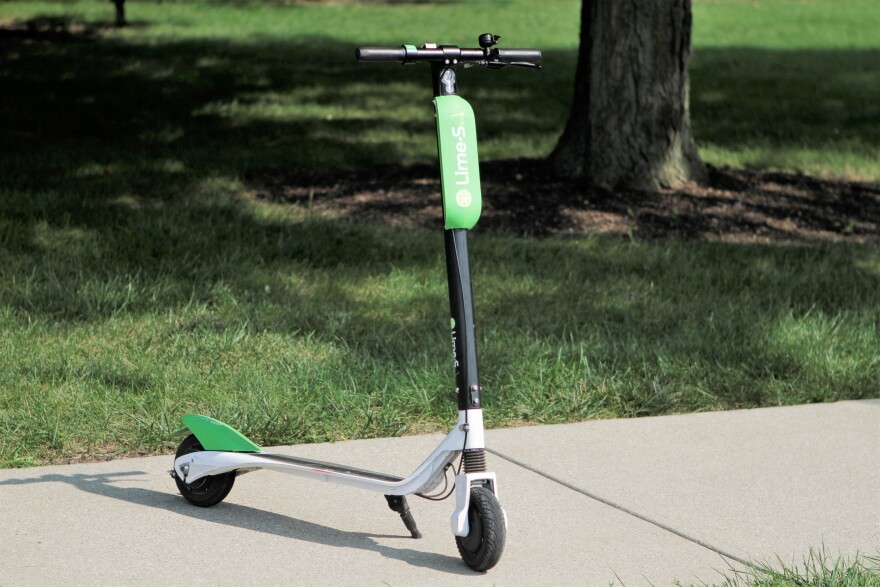 Dublin is the latest Central Ohio city allowing electric scooters to make tracks within its limits, but the scooters that quickly inundated Columbus and other cities in recent years are being introduced slowly in a pilot program.
Scooters from the rental service Bird came to Dublin in May for a yearlong trial run.
J.M. Rayburn, a Dublin transportation planner said since May 1, 1,400 rides have been taken on scooters, with 629 unique riders on a fleet of about 32 scooters traveling 3,600 miles in the designated trial area.
The city wants to take the rollout slowly, gathering data and absorbing lessons learned by other cities, many of which saw the app-enabled rentals land quickly in unchartered territory, and had to make up the rules on the fly.
The rollout is mostly contained within the southeast side of the city, bordered by the curve of Interstate 270, east to Sawmill Road and south to Tuttle Crossing Boulevard.
"But we'd like to go citywide eventually, if that's the way that we see the pilot and its success," Rayburn said.
Rayburn said scooters could play a role similar to bicycles in the city, classified as micro-mobility devices used to help supplement other forms of public transit. They could even play a role in reducing private vehicle transportation during the workday.
"We have a goal of a 1% mode shift that's based off of our workforce numbers. So, if we have about 70,000 workers, we'd like to see about 700 people a day use a different mode of transportation other than their car," Rayburn said.
The objective is to reduce congestion and improve air quality. But scooters still have plenty of critics who say they clog sidewalks and bring safety concerns with little enforcement of violations.
So far, Rayburn said the numbers they're seeing are encouraging.
"I think it does make a case that this does fill a gap in our transportation system. We just need continuing fine tuning the program to make sure it's safe and accessible for everybody," he said.
Rayburn said they work closely with Bird, and the company adapts the technology at the city's request. He said safety is an important aspect of the way the pilot program is designed.
The city banned the devices from parking garages with no-ride zones.
The scooters aren't allowed on high-speed roadways like Riverside Drive, where the speed limit is 50 mph, but users can operate them on paths and sidewalks.
"Dublin is unique in that we permit scooters to ride on sidewalks. The best way to look at it is we are treating scooters very similarly to the way we treat bicycles. And we allow them on shared-use paths, as well as sidewalks bike lanes and within the travel lanes," Rayburn said.
Cities like Columbus have banned the scooters from sidewalks, though many users ride on them, anyway.
Dublin placed signs in some areas, showing where scooters can be used, and encouraged travel boulevards parallel to popular streets in historic Dublin to ease their use near high-traffic pedestrian areas and create a bypass on High Street.
"High Street can be a street that is a little congested, narrow sidewalks that could provide safety hazards for those on scooters and pedestrians and motor vehicles," Rayburn said.
The design redirects scooter traffic to routes with lower average daily traffic.
"We believe that provides even more safety and comfort for those who are using micro mobility devices," he said.
The city made Longshore Drive a scooter-free zone because of the high amount of pedestrian traffic.
Dublin also created 99 spots throughout the coverage area for parking the devices. The majority of complaints about the scooters in Columbus are centered on the parking habits of the users.
Rayburn said education on riding etiquette and feedback from the public's experience with the devices will be important aspects of the trial period and any permanent program.
"There's more we can do and we're working and thinking of ways to improve that experience," he said.
During the pilot, the city isn't charging the companies to operate there.