'Notorious RBG in Song': New Recording Celebrates Justice Ruth Bader Ginsburg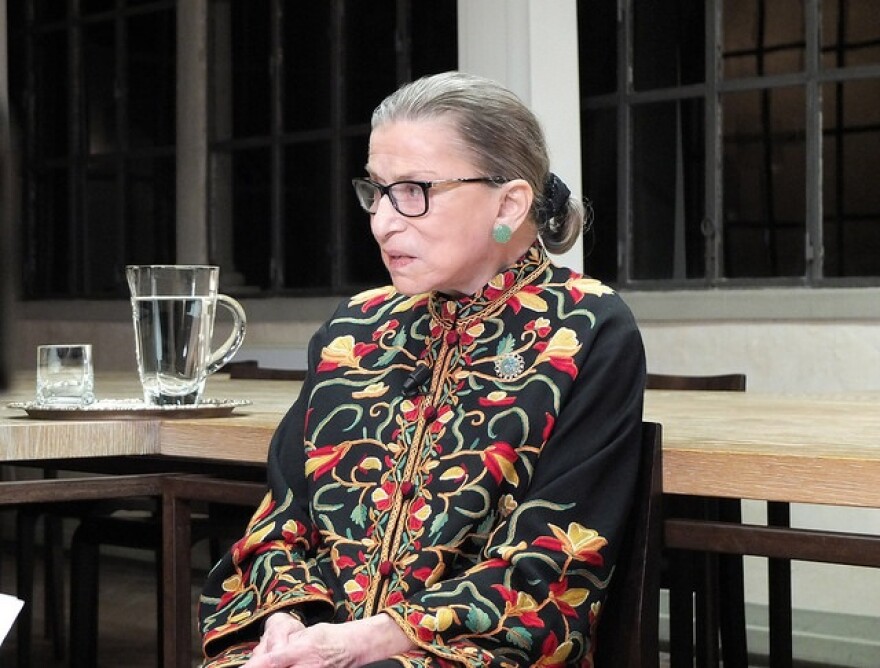 Ruth Bader Ginsburg, the U.S. Supreme Court Justice. Ruth Bader Ginsburg, the mother and mother-in-law. Ruth Bader Ginsburg, the music lover. And, thanks to the Notorious R.B.G. blog, Ruth Bader Ginsburg, the unexpected pop-culture icon.
Now, Ginsburg, 85, is also the inspiration for, and the subject and dedicatee of, a new recording of art songs — many composed specifically for her and in celebration of the quarter-century mark of her Supreme Court career.
The recording, Notorious RBG in Song, isn't the first musical tribute that Ginsburg's children — Columbia University Law School Professor Jane Ginsburg, and Cedille Records Founder and President James Ginsburg — have given their mother, whose love of opera is almost as well-known as her championing of gender-based equality and her dissenter's jabot.
"For (her) 80th birthday celebration, my sister and I, as a gift, thought Mom would enjoy having some special songs written by women composers, based on texts which we chose," said James Ginsburg in a recent phone interview. "And two of those were, in fact, tributes to her written at her 50th birthday."
Those songs and several others now appear on Notorious RBG in Song, a new release on the Cedille label featuring music by Vivian Fung, Stacy Garrop, Derrick Wang, Lori Laitman and Ginsburg's daughter-in-law, composer and soprano Patrice Michaels, who also performs the songs with pianist Kuang-Hao Huang.
Taken together, the texts of the songs read like a biography of Ginsburg, accentuating the softer side of a woman whose popular image has come to represent formidable intellect and unflagging strength of will.
Michaels' "The Long View: A Portrait of Ruth Bader Ginsburg in Song" gives us a look into her mother-in-law's family — Ginsburg's beloved mother, Celia, who died when Ginsburg was in her teens; Ginsburg's father-in-law, who encouraged her to find a way to attend law school while caring for a baby; Ginsburg's son and his schoolboy prank involving an elevator and Ginsburg's husband, attorney Martin Ginsburg, to whom she was unswervingly devoted until his death in 2010.
Stacy Garrop's "My Dearest Ruth" reveals an intimate moment in the Ginsburgs' relationship, with a poignant musical setting of a letter Martin Ginsburg wrote his wife while in the hospital with what would be his final illness.
"My father talks in the letter about admiring my mother from the beginning and watching her legal career flourish and their 56 years together," James Ginsburg said. "The letter, just on its own, is so powerful. But then when you add Stacy's music to it, it really takes it to another level of just poignancy."
Despite Ginsburg's brilliant legal career, her family has maintained — even publicly, as in the 2018 documentary RBG — that Ginsburg's talents do not extend to cooking.
Ginsburg's career of kitchen mishaps is the inspiration for Pot Roast à la RBG, in which Canadian composer Vivian Fung sets Jane Ginsburg's spoof of a pot roast recipe that includes family inside jokes in the form of step-by-step "instructions," such as:
"Slice the former brisket (Against the grain, and keeping your fingers well out of the knife's path. The memory of the Roast Ham With Sliced Thumb should serve as sufficient admonition)," and "Don't forget to heat — but not bake — the plates!"
The recording closes with an aria from Derrick Wang's one-act comic opera Scalia/Ginsburg, inspired by the deep friendship that — despite vastly different views of politics and the law — prevailed between the American judicial system's most famous odd couple: Justices Ginsburg and Antonin Scalia.
It was actually their love of opera that brought the politically and legalistically opposed Ginsburg and Scalia together as friends. In addition to attending performances together, Ginsburg and Scalia even appeared as party guests in Washington Opera's 1994 production of Richard Strauss' opera Ariadne auf Naxos.
Ginsburg loves opera so much, in fact, that she has said very publicly that she would have loved to become a great opera singer, had she had the talent for it. She followed a different path, but now, she has a daughter-in-law through whom she can live vicariously.
"Oh, we have so much fun," Michaels said. "We get to travel together nowadays, sadly, because Marty has passed. We are often her dates at the opera, a whole gang of us, and it's just so much fun to talk about what we've heard.
"And, of course, she's been extremely generous," Michaels continued. "As this song cycle has been taking shape, she has often invited me to perform pieces. If she's giving a lecture about opera, I have often been included. So it's a unique experience to be in a room of about 1,500 lawyers, providing musical examples of what Ruth Bader Ginsburg is talking about."
Just as Scalia/Ginsburg playfully lampooned the views and relationship of two brilliant justices on opposite ends of the political and jurisprudential spectrums, the Notorious R.B.G. blog coined a lighthearted moniker for the intense and fearless justice that has catapulted Ginsburg to true celebrity status.
Sure — just an outlandish name and a few over-the-top memes in the blogosphere. But to James Ginsburg, they have a certain ring of truth.
"I love it because, in some ways, it's so not my mother," he said. "(But) it just caught on so naturally. She's this 85-year-old bubbe, and yet she's this pop icon now."
And now, that pop icon even has a record deal.