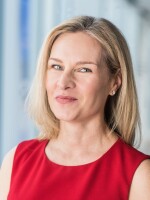 Mary Louise Kelly
Mary Louise Kelly is a co-host of All Things Considered, NPR's award-winning afternoon newsmagazine.
Previously, she spent a decade as national security correspondent for NPR News, and she's kept that focus in her role as anchor. That's meant taking All Things Considered to Russia, North Korea, and beyond (including live coverage from Helsinki, for the infamous Trump-Putin summit). Her past reporting has tracked the CIA and other spy agencies, terrorism, wars, and rising nuclear powers. Kelly's assignments have found her deep in interviews at the Khyber Pass, at mosques in Hamburg, and in grimy Belfast bars.
Kelly first launched NPR's intelligence beat in 2004. After one particularly tough trip to Baghdad — so tough she wrote an essay about it for Newsweek — she decided to try trading the spy beat for spy fiction. Her debut espionage novel, Anonymous Sources, was published by Simon and Schuster in 2013. It's a tale of journalists, spies, and Pakistan's nuclear security. Her second novel, The Bullet, followed in 2015.
Kelly's writing has appeared in the Wall Street Journal, The New York Times, The Washington Post, Politico, Washingtonian, The Atlantic, and other publications. She has lectured at Harvard and Stanford, and taught a course on national security and journalism at Georgetown University. In addition to her NPR work, Kelly serves as a contributing editor at The Atlantic, moderating newsmaker interviews at forums from Aspen to Abu Dhabi.
A Georgia native, Kelly's first job was pounding the streets as a political reporter at the Atlanta Journal-Constitution. In 1996, she made the leap to broadcasting, joining the team that launched BBC/Public Radio International's The World. The following year, Kelly moved to London to work as a producer for CNN and as a senior producer, host, and reporter for the BBC World Service.
Kelly graduated from Harvard University in 1993 with degrees in government, French language, and literature. Two years later, she completed a master's degree in European studies at Cambridge University in England.
Harvard epidemiologist Michael Mina wants to increase availability of the at-home rapid tests the Biden administration is promoting. But he warns of a shortage without market competition.

W. Ralph Eubanks' new book examines Mississippi's mighty contributions to American literature, and what writers like Eudora Welty and Jesmyn Ward can teach us about broader national issues.

Chef Amanda Cohen, owner of Dirt Candy in New York City, says the coronavirus relief package's $28.6 billion for independent and small-chain restaurants means many in the industry can stay afloat.

As Democrats in Congress set their sights on expanding voting rights, the Georgia Democrat says now may be the time to scrap the the Senate rule requiring a 60-vote supermajority to pass legislation.

The woman who turns up dead at the start of Elly Griffiths' new novel billed herself as a "murder consultant" for writers. Griffiths says she was inspired by her aunt, who enjoys thinking up murders.

Dr. Francis Collins and Dr. Anthony Fauci of the National Institutes of Health discuss their fight against "egregious" distortions of reality and when they think life will start to feel more normal.

Researchers say they have identified the oldest existing structure in the U.S. dedicated to teaching Black children. It's a small, white building on the College of William & Mary's campus.

Jan Egeland of the Norwegian Refugee Council is on the ground in Yemen. The United Nations is asking for funding as tens of thousands are already starving to death and millions more go hungry.

Director of national intelligence Avril Haines has taken over after a turbulent time. Former President Donald Trump was frequently at odds with his handpicked national security team.

The wording in the Cherokee Nation's legal doctrine has been used to exclude Black people whose ancestors were once enslaved by the Cherokees — known as Freedmen — from their full tribal rights.