Urban Scouts Youth Program Provides Work Opportunities In Linden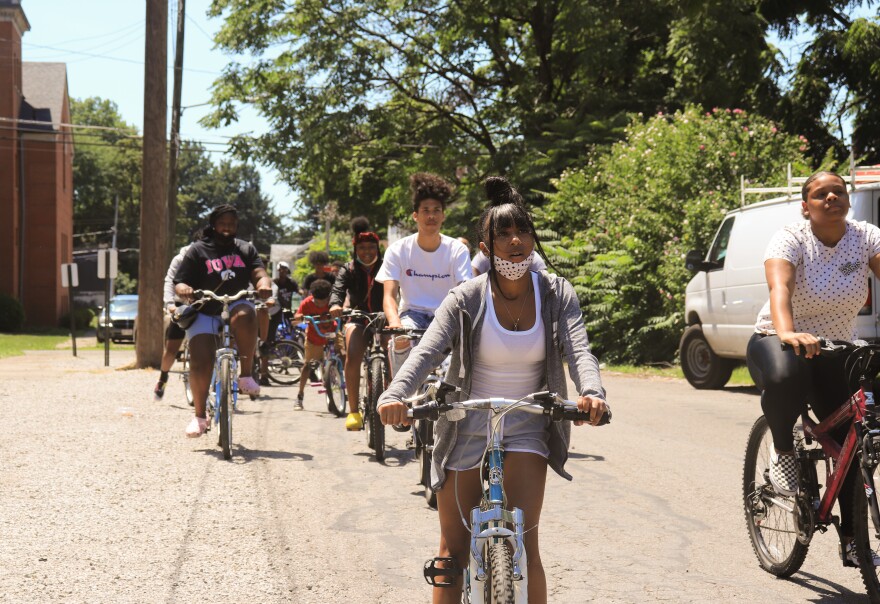 Bright and early on a recent morning, it's all whispers and nervous glances at True Love Ministries in Linden. Teenagers are setting up accounts for themselves on brand new tablets and filling out paperwork.
It's pretty boring. So at the first hint of downtime, a small group of boys start playing pickup basketball down at one end of the room.
The ringleaders are Silas Peck and Rayvon Ivery. They're cousins, and their near constant game of one-upmanship comes out immediately during an early icebreaker.
"My name is Rayvon, I'm 16, and I love the game of football," Ivery says.
"Show up, alright, you love the game of football," Markiesha Johnson says. "Who wants to go next?"
Peck jumps in before she can finish.
"My name is Silas, I'm 17, and he can't guard me at football," he says.
Peck and Ivery have been part of Urban Scouts for a few months already, and they help the other teenagers get acclimated with the program.
The pitch: work for five weeks in community gardens, weeding, mowing and planting. You'll get $13.50 an hour, organizers will loan you a tablet to track your progress and a bike to get around. At the end of the program, the teenagers get to keep the bike and the tablet.
Along the way, organizers are squeezing in soft skills that kids would typically pick up in a first job. They also have weekly trauma and resilience sessions to help the teenagers workers cope with violence and other challenges in their community.
Tyonna Ramey's son Anthony Bush is new to Urban Scouts, and she says there aren't many opportunities like it in the area.
"You know what, I really don't hear too much about any," she says. "You know, I have a friend that knows these people and they reached out to me and I was like, OK, great. I always look for something to keep my kids engaged in, so to be honest, like in the community with them doing things, there's not too much stuff out here, there's not."
At the end of the first day, Noelle Myles and Kjuana Baker have come out of their shells a bit, and they seem more excited than wary.
"I don't like cutting grass, because it be too itchy, and scratchy," Myles says.
"You going to be wearing big giant boots," Baker jumps in. "Big old pants, big old gloves."
"And I didn't want to work in the grass areas," Myles goes on, "but if I have to, I will, because I'm getting paid for it."
On day two, kids got to pick out their bikes, and on day three they rolled out to visit the gardens.
But getting 20 sets of tires pumped, and 20 kids lined up and ready to go, took a minute. Once they did, Geno Tucker, who leads Urban Scouts, explained the basics: "We leave no one behind."
"This is a left turn," he goes on, demonstrating with his arm. "When I do this, I need all y'all to do this, for the left turn. This is right turn, when I do this, all y'all do this."
"If y'all see me doing this" he says, making the hand signal for stop, "that means slow down—do not keep going, slow down to stop."
A few blocks away at one of the gardens, Leigh Anne Ward shows the kids what they're in for.
"There's a lot of mowing, there's a lot of weed whacking, and more than anything, there's just a lot of weeding that we need to get on top of," Ward tells them.
One patch of grass is taller than most of the kids, but Ward shows them it pulls from the soil easily. She tells them to make sure to knock the dirt from the roots before throwing the weeds to one side. Anthony Miller-Dickerson isn't fazed by how much work they have in store.
"I knew what I was signing up for," he says. "This is a grown man's job, but as kids we're just getting an early start."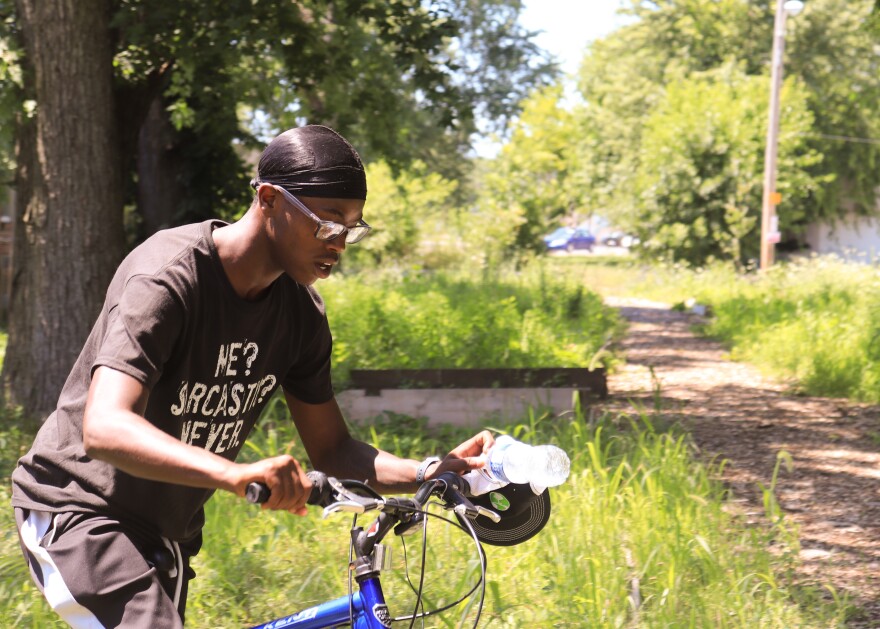 But with a wide grin, he admits he's a little nervous about the poison ivy Ward was pointing out earlier.
"Yes!" he says with a laugh. "No cap, as long as I stay away from it and I can spot it on time, I'm going to be straight."
The Urban Scouts will be back at work today in Linden's Miracle Gardens. And although this version of the program is launching in the summer, organizers say they want to figure out how to keep it running year round.