Rob Portman Says He Won't Vote To Remove Or Censure President Trump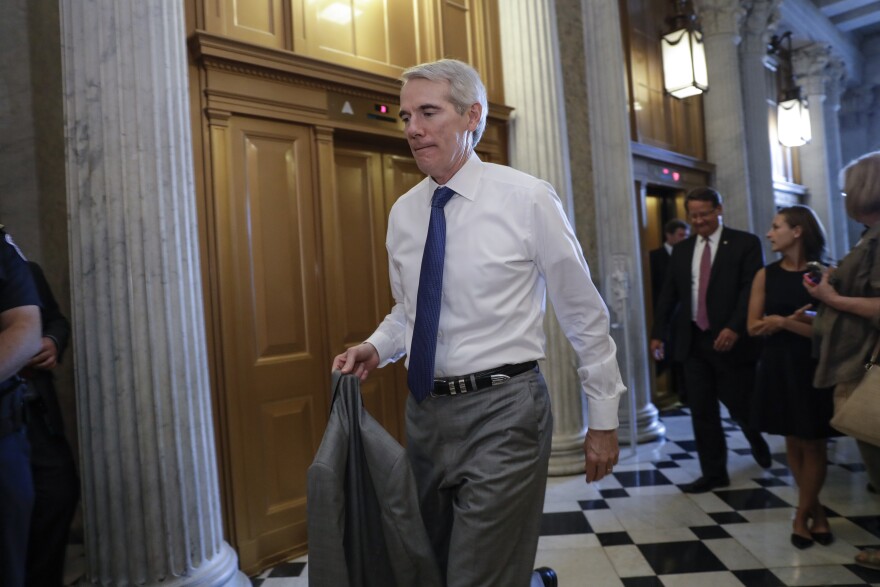 Sen. Rob Portman (R-Ohio) is holding strong to his original statements on the impeachment of President Trump. A final vote in the Senate trial is scheduled for Wednesday afternoon.
On the Senate floor Tuesday, Portman argued that Trump's actions did not amount to an impeachable offense.
"There could be circumstances where a crime isn't necessary for an impeachment," Portman said. "Without a crime, it's even a higher bar for those who advocate for a conviction, and that higher bar is not met here."

On a call with reporters earlier in the day, Portman reiterated that he felt Trump asking the president of a foreign country to investigate his political opponent was "wrong and inappropriate."
"While I don't condone that behavior," Portman said, "I also have said that based on what I knew, I did not believe that these actions rose to the level of removing President Trump from office and taking him off the ballot in a presidential election that is already underway."
The U.S. House last year passed two articles of impeachment against Trump: abuse of power and obstruction of Congress.
After listening to witnesses during the House inquiry and reading hundreds of pages of documents, Ohio's junior senator says he still feels Trump's behavior is not worthy of removal from office. Portman added he has no plans on censuring the president, either.
"I've been pretty clear in how I feel about the action, I don't know what advantage there would be in having a censure on top of that," he says.
Sen. Joe Manchin (D-W.Va.) called Monday for the Senate to censure the president. Portman says he feels that action is inaffective.
"It's a remedy that has no impact," Portman says. "So I think I would prefer just to make my statement and make it clear and I think other members should do the same."
Sen. Sherrod Brown (D-Ohio) has blasted the impeachment proceedings and criticized the Senate for shooting down a vote to call witnesses and introduce new evidence. Portman was among the 51 senators who voted "no" on that motion.
In a statement Tuesday, Brown said he will vote to convict and remove Trump from office. He plans to speak from the Senate floor on Tuesday afternoon about his decision.
"If we acquit this President, it sets a clear, dangerous precedent - that you can abuse your office, and Congress will look the other way," Brown wrote in a statement. "This trial and this vote are about more than just President Trump. This is about the future of our democracy."