Curious Cbus: How Much Has The NRA Donated To Ohio Lawmakers?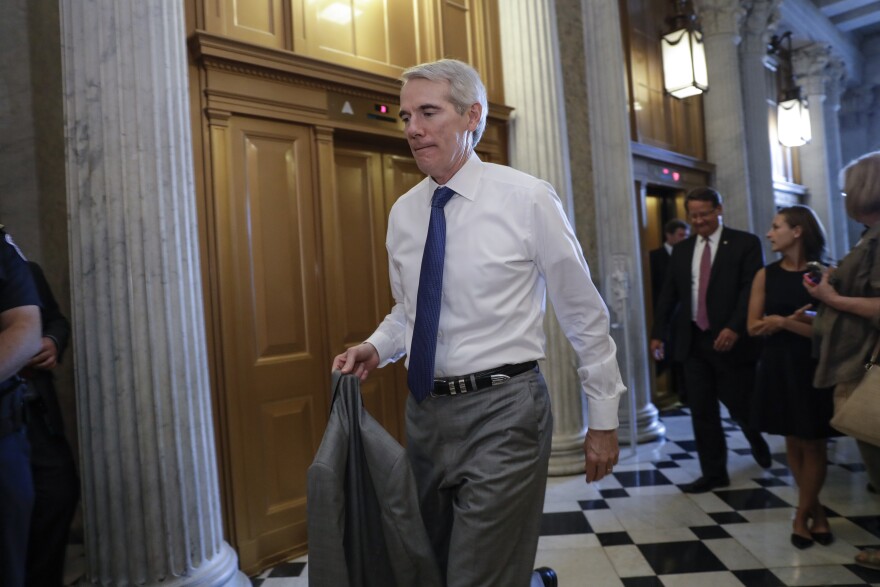 Gov. Mike DeWine has rolled out a 17 point plan to address gun violence in the wake of a mass shooting in Dayton. Legislative leaders are already warning proposals like new background checks and a so-called "red flag law" could be a tough sell with their members.
As part of our Curious Cbus series about guns in Ohio, several listeners wanted to know how much the NRA—and other gun groups—donate to Ohio lawmakers.
How Much Money Did The NRA Donate?
When it comes to direct contributions, it turns out, lawmakers don't get that much from the National Rifle Association.
State level officials—U.S. Representatives, Senators, the governor—have the greatest say over what is and isn't legal in Ohio. But few of them received NRA contributions and the dollar amounts were relatively small.
According to Federal Elections Commission data, 11 candidates received money, all of whom were Republicans. The average amount per gift was about $700.
Some lawmakers got more than one contribution. Current House Speaker Larry Householder took in the most money: $2,450 since 2016.
Congressional lawmakers do get more, but the direct contributions are still relatively small. Since 2016, the NRA has given a little less than $100,000 to House and Senate candidates' committees. Those donations were about $1,000 on average, and all the recipients were Republicans.
Rep. Jim Renacci collected the most, at $11,990.
But these are just the direct contributions, and they make up a small fraction of the NRA's spending.
How Else Does The NRA Spend Its Money?
The vast majority of NRA spending is what is known as "outside spending." This means the organization is paying for advertising on television, through the internet or direct mail, to support or oppose a given candidate.
In contrast to campaign donations, the NRA has greater control over the messaging of their own advertisements. In every recent election, the NRA's outside spending far outpaced its direct contributions.
The discrepancy is particularly apparent in Senate races. In terms of outside dollars in 2012, NRA-related political action committees (PACs) spent more than $500,000 against Sen. Sherrod Brown (D-Ohio) and another $163,000 in favor of his Republican opponent, former Ohio Treasurer Josh Mandel. In the same cycle, the NRA gave just $9,450 directly to Josh Mandel's campaign committee.
Jumping forward to 2016, the same pattern plays out again in Sen. Rob Portman's (R-Ohio) last race. In terms of direct contributions, the Republican incumbent received just $9,900 from the NRA. But in outside spending, the NRA put up $250,000 to support his bid, while it spent more than $1.5 million against his Democratic opponent, former Gov. Ted Strickland.
What About State-Level Groups?
In Ohio, the biggest name in pro-gun groups is probably the Buckeye Firearms Association, but again, the contributions are relatively small.
Since 2016, the organization has given donations to about 20 candidates and the Franklin County Republican Party. They've even given to a Democrat, Rep. Jack Cera of Bellaire.
The group's average donation was less than $400, and in 2018, its total contributions to candidates was just shy of $13,000. To put that in perspective, the current maximum contribution Buckeye Firearms can make to a single candidate's committee is $13,292.95 per election period.
Other organizations like Ohioans for Concealed Carry and the Ohio Gun Collectors Association are fairly active as well, but their donation figures are also relatively small.
How Much Have Gun Control Groups Donated?
Within Ohio, the presence of gun control groups is limited. Well-known groups like The Brady Campaign, Everytown for Gun Safety and the Giffords PAC don't have state funds set up in Ohio, and when they have waded into Ohio campaigns in recent years, their input has been small.
Nationwide, in the last election cycle, gun control groups outspent gun rights groups by about $2 million. But generally speaking, gun control organizations have far outspent their opponents.
What do you want to know about guns in Ohio? Submit your questions below.
_