East Side Shocked By Teen Gun Violence: 'It's Heartbreaking'
Bonnie, 73, was enjoying a quiet Wednesday night on her porch. Across the street, a couple of teenagers gathered near the playground at Shady Lane Elementary School.
"I seen a black car pull up in the gravel, and the kids started walking toward it, and I went ahead and started to step in the house, and as I got one foot inside...the house I heard five fire crackers," Bonnie says.
But they weren't fire crackers. Jaykwon Sharp, 14, had been shot.
Bonnie, who didn't want to use her last name out of fear of violence in her neighborhood, says she realized what happened when she came back outside.
"I looked and that car took off and the kids were screaming and running, and he was standing there by himself and he just put his hand on his stomach," she says. "I went over, and I held his head, and he never said anything, he didn't make any noises, he didn't appear to have any pain and I kept telling him to stay with us, stay with us."
Sharp was transported to an area hospital, where he died about an hour later. Miracle Carolina, 14, was also shot in the leg, but she's expected to recover.
Wednesday's shooting has left the East Side neighborhood in mourning. In front of the school, where school is still in session, flowers and balloons mark where Sharp died. A few students hug each other and cry, while teddy bears with graduation caps lean against the chain link fence.
The incident stemmed from an argument, police say. The suspect, who hasn't been named or arrested as of Friday afternoon, is only 13 years old.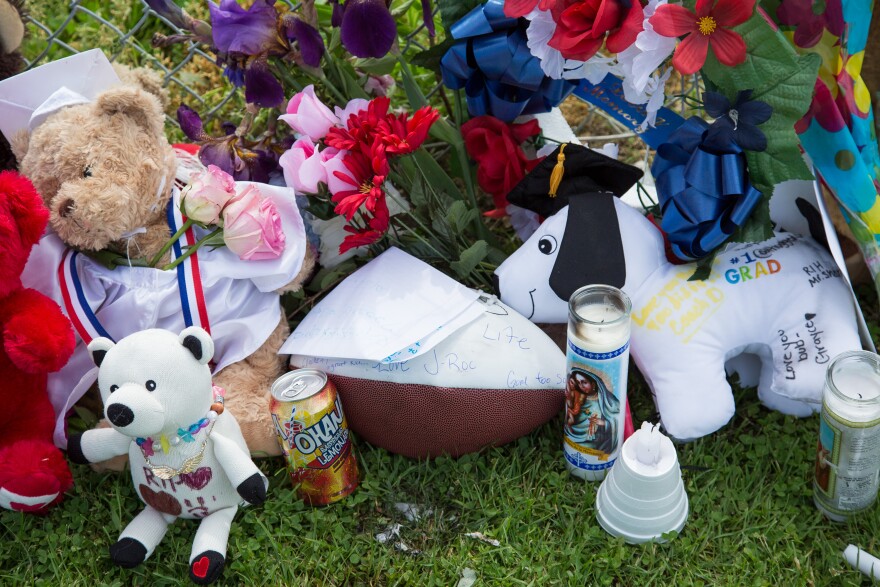 "This is very heartbreaking for all of us to know a 13-year-old is out there carrying a weapon and so willing to use a weapon to harm someone and to settle a dispute," said Interim Columbus Police Chief Tom Quinlan at a press conference Thursday.
Quinlan said the incident is representative of a city-wide trend.
"We do see teens younger and younger willing to carry weapons and use them," he said.
Sharp and Carolina were shot just a short walk away from their middle school, Sherwood. Back in the fall, that's where Sharp participated in a 10 week program called TAPS – Teen and Police Service Academy. It's a partnership between Columbus Police and Columbus City middle schools that tries to bridge the divide between students and law enforcement.
"We talk about how to talk your way through situations as opposed to fighting, and of course guns or knives of weapons of that sort," says Yvonne Jordan, a TAPS coordinator.
Jordan says the program aims to help kids with behavioral issues make better decisions.
"It's heartbreaking," Jordan says. "He didn't have the gun, so that's a good thing, we're happy about that. But the fact that he was in a situation that lead to gun violence, whatever happened, I don't know the entire story, but I just wish that he could have said, 'Okay, whatever is going on here, I'm out of here.' And just walk away."
Nicole Mancini, a patrol officer on the East Side, also knew Sharp from the TAPS program.
"He was always smiling, always super energetic, excited, just full of energy," Mancini says. "He was honestly very much a leader in his group, and if he was on board with what we were saying, everyone was on board with what we were saying, because he had such an influence over the other kids in our class."
Sharp was set to walk in 8th grade graduation next week.