Ohio Museum Tells Story Of Black Colonel Through Quilts
Quilts traditionally provide warmth and comfort. Story quilts link these qualities with history, and there are quilts right now in Wilberforce that tell the story of a remarkable man.
Colonel Charles Young was a professor of military science at Wilberforce, a leader of the Buffalo Soldier Regiment, and the highest ranking black Army officer until his death in 1922, and that is the short list.
Young's life is now told in a quilt exhibit. "Yours for Race and Country: Reflections on the Life of Colonel Charles Young" is on display at the National Afro-American Museum and Cultural Center in Wilberforce.
The art of the quilt has a long history in the African American community. Quilt artists across the country, members of the Women of Color Quilters Network, celebrate that tradition and keep it alive. They were challenged to create quilts that illustrated some aspect of Young's life. And the result is an extraordinary exhibit of 33 quilts honoring a local man of courage.
"It's amazingly beautiful, handcrafted use of color, shape, form, material texture. It's very rich," says Rosa Rojas, a curator at the museum in Wilberforce.
When the exhibit opened, quilt artists came from all over the country to experience each other's works.
"The strength of the show is that these artists have come together to tell a complete, cohesive story," Rojas says.
Part of that story is Young's long and accomplished military career. He was the third African-American to graduate from the U.S. Military Academy in 1889. He described those five years at West Point as the most difficult of his life, as he endured racial slurs and social isolation.
Quilter Renee Fleuranges-Valdes chose to focus on Young's dedication and contributions to his country rather than on his struggles with racial discrimination. Her quilt "In Service" features Young as a West Point cadet surrounded by symbols that figure later in his career.
She's explaining the details to me as she looks over her quilt, now hanging on the museum wall.
"He really defined himself as a buffalo soldier," says Fleuranges-Valdes. "That's why I have the buffaloes going around him. He was the first African-American to serve as an army attaché and he served in Haiti, Dominican Republic, and Liberia. Each of the flags I have here are the flags of the countries when he served as military attaché for that country."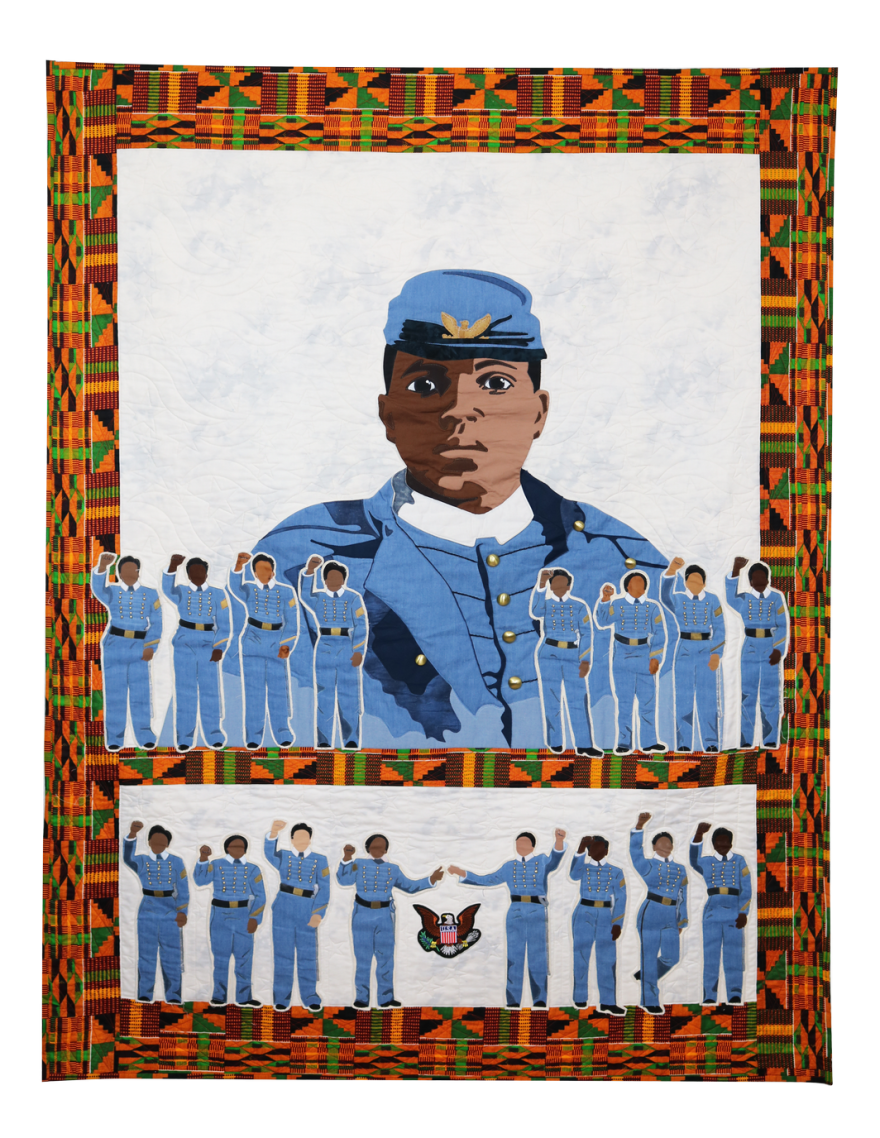 Dorothy Burge and Judy Wolff made a quilt they call "We Stand On The Shoulders Of Our Ancestors." It shows Young as a West Point cadet, towering above 16 smaller cadets, not men, but women. Burge was inspired by 16 black female cadets who graduated just three years ago. They had posed for a graduation photograph with their fists raised in the air.
"People saw the photograph of them on Facebook and they decided that they had violated the code of conduct, and they threatened to expel them," Burge says. "So there was a lot of outrage, especially in the African American community. They interviewed the young women and they all said this was not a protest; this was a sign of unity & based on that they were allowed to stay."
Burge bordered the quilt in a gold kente cloth as a symbol of African roots. And denim gave her the right shades of blue to add dimension to the uniforms.
"It was also important to me that we show the whole range of the color spectrum of African American women," she says.
The figures aren't standing straight in line like cookie cutter soldiers – there's a lot of motion in the quilt.
"Exactly," says Burge. "So when the women took the photograph, they were in all kinds of positions because it was not an official photograph. It was like, 'Hey everybody! Let's take a photograph!' They all were doing this and making different poses and so I tried to capture some of those poses."
"That's what I love about art," says curator Rosa Rojas. "That's exactly it right there. That artists are sensitive to historic data, but always find a way to weave it into today. And then it lasts. It stays. It's got staying power. Visual arts have staying power. And they continue to tell the story long after we're all gone."
Before summer's end, the quilts will be folded and carefully packed. They will be sent to another museum in another town, where they will continue to tell the story of Colonel Charles Young.
The exhibit of 33 quilts called "Yours for Race and Country: Reflections on the Life of Colonel Charles Young" runs through August 17th at the National Afro-American Museum and Cultural Center in Wilberforce.