Twenty-Nine Men Join Lawsuit Alleging Ohio State Ignored Doctor's Abuse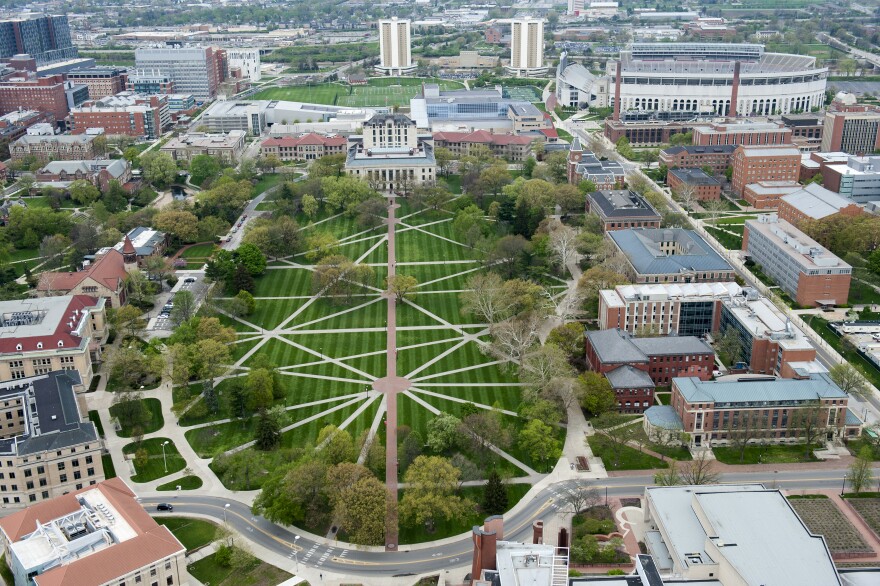 Alumni who say they're victims of sexual misconduct by an Ohio State University team doctor allege more than 20 school officials and staff, including two athletic directors, knew of concerns about how the physician treated young men but didn't stop him.
The list of such employees grew Tuesday as 29 plaintiffs were added to one of the two pending lawsuits alleging Ohio State didn't deal appropriately with the now-deceased doctor, Richard Strauss. He is accused of unnecessarily groping scores of athletes and others under the guise of medical care during his two decades at the school.
Former tennis player Ron McDaniel said he is frustrated that Ohio State didn't do more to stop Strauss back when players voiced concerns to coaches or administrators, as McDaniel and some fellow plaintiffs in the updated lawsuit say they did.
Ohio State is "great in a lot of things, but when it came to protecting them from this guy . they didn't do a very good job of protecting us," McDaniel said in an interivew.
The university has sought to dismiss the lawsuits as being time-barred by law but insists it is not ignoring the men's stories. The allegations raised this year prompted Ohio State to have an outside law firm investigate .
The school is aiming "to thoroughly and carefully pursue the truth about what happened during Strauss' time at Ohio State and what university leaders at the time knew," spokesman Ben Johnson said in an email Wednesday. "We do not tolerate sexual misconduct and pledge to appropriately address the findings of the investigation."
Strauss killed himself in 2005. His relatives have said they are shocked by the allegations.
Employment records released by the university reflect no major concerns about Strauss. But alumni say they complained about him as far back as the late 1970s, and Ohio State has at least one documented complaint from 1995.
Some of the newest plaintiffs told their coaches or trainers about inappropriate behavior by Strauss, but little came of that, according to their lawsuit. Those plaintiffs include a swimmer who said Strauss kissed his neck and back while massaging him before a swim meet, and a fencer who said he was told by a female coach that she would talk to someone about Strauss after hearing concerns.
Another male athlete, Kelly Reed, raised concerns with several track and field coaches and with Buckeyes football star-turned-administrator Archie Griffin while he was assistant athletic director, according to the lawsuit. Griffin told Reed he would look into the situation, but Reed never heard of any follow-up or action taken against Strauss, the lawsuit said.
Griffin is retired. Messages seeking comment from him were left Wednesday via phone and email, and with an attorney who has represented him in another lawsuit.
Another plaintiff, an ex-wrestler, alleges Strauss made a sexual proposition to him while examining a groin injury in the late 1970s. Embarrassed and angry, the wrestler said, he declined. He told The Associated Press that he reported it to now-deceased wrestling coach Chris Ford but doesn't know whether Ford did anything with the information.
A second fencer from the early 1990s told the AP that at his first physical exam with Strauss, the doctor told him to fully disrobe, complimented his collar bones, and then sat with his head near the athlete's crotch and commented about being in a vulnerable position. The athlete said that he told a trainer about it and got the impression that the trainer would address it with the doctor, but that he never heard anything further.
That former fencer and the ex-wrestler consider their experiences to be sexual abuse and discussed them with the AP on condition of anonymity. The AP generally doesn't identify victims of sexual abuse without their consent.
They say they are pursuing accountability from Ohio State and want to make sure it doesn't happen again.
At least 150 ex-students have alleged sexual misconduct by Strauss between 1979 and 1997. The allegations under investigation involve Ohio State male athletes from at least 16 sports and Strauss' work at the student health center and his off-campus medical office .
The U.S. Department of Education Office for Civil Rights also is examining how the university responded to students' complaints about Strauss.
Ohio State is encouraging anyone with information to contact the investigators from Seattle-based Perkins Coie. The firm isn't proactively reaching out to possible victims, citing concern for potentially re-traumatizing them.