Columbus Issues New Restrictions On Electronic Scooters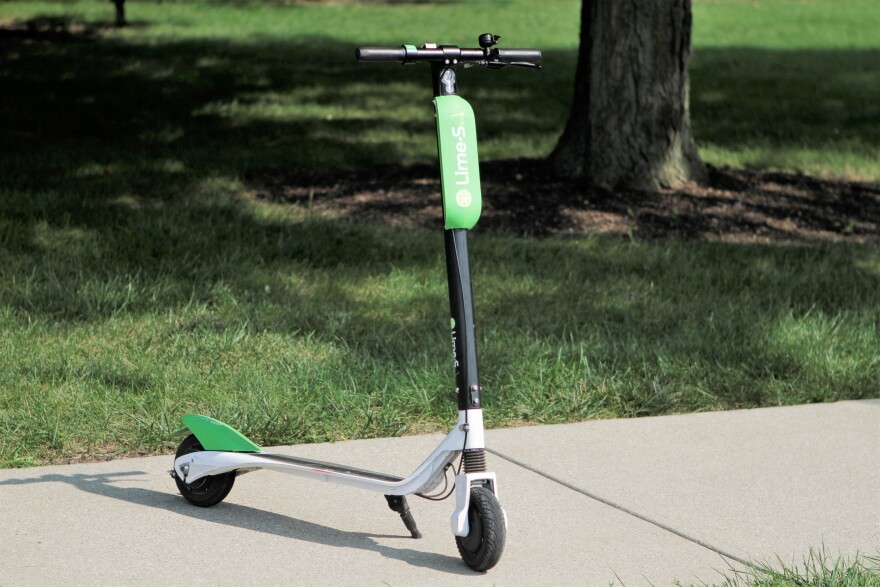 Columbus' Department of Public Safety has started regulating shared public mobility devices, including electric scooters, effective immediately.
Go downtown or near The Ohio State University campus and it's impossible to miss scores of new scooters and bicycles that people can rent by the minute, using a mobile app, and leave just about anywhere.
Starting Tuesday, rental scooters and bikes cannot be left in public parking spots, loading zones, or block pedestrians on sidewalks, although they can be placed on portions of sidewalks that don't disrupt pedestrian traffic.
A Department of Public Safety press release says the city may designate parking or staging spots for devices in the future.
The new rules also set a speed limit of 15 miles per hour, and limit how many scooters and bikes companies can put in the city.
A maximum of eight companies can rent up to 500 devices each, provided they get a new city permit.
Columbus City Attorney Zach Klein told WOSU earlier this month that his office has seen some complaints after an influx of rental scooters by companies including Bird and Lime.
Department of Public Safety spokesman Jeff Ortega says he's not aware of any injury accidents in Columbus. He calls the new rules a "common sense" approach to resolving problems stemming from an emerging industry.
In Cleveland, a woman riding a rental scooter was recently killed when police say she was rear-ended by a car.
Other than the speed limit, the new Columbus rules only deal with the storage of devices. Ortega says Mayor Andrew Ginther's office will soon release rules dealing with the operation of scooters.
Klein recently told police to let riders use both the sidewalk and street, but to follow all applicable traffic laws.
The full list of rules going into effect on Tuesday also include:
Companies offering Shared Mobility Devices are required to educate riders on responsible and legal use of their devices.
Companies offering Shared Mobility Devices must deploy at least some of devices in neighborhoods outside of the Central Business District as designated by the Office of the Mayor.
Companies offering Shared Mobility Devices must put in place access to the service for those without credit cards.
Companies with existing operations will have 30 days to come into compliance.