Not A Bike, Not A Vespa: How Columbus Law Covers Electric Scooters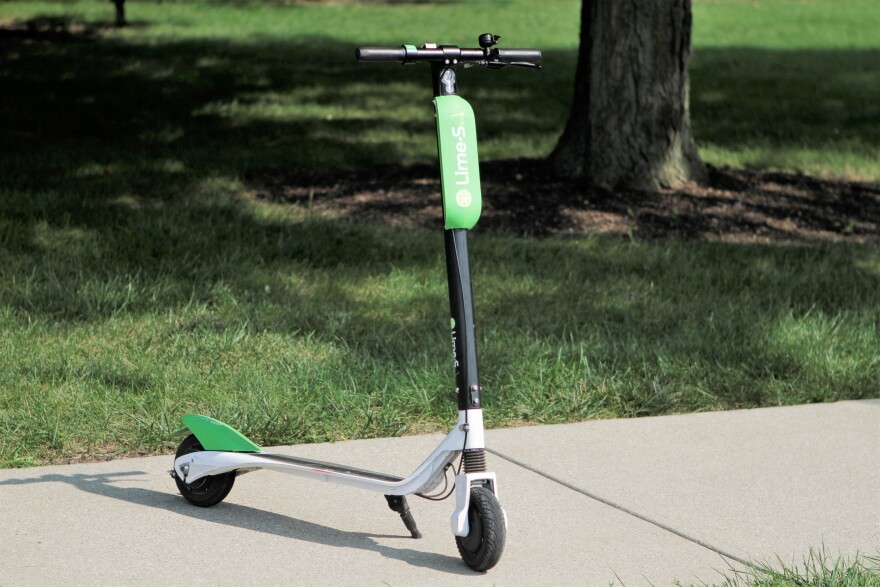 Go to downtown Columbus or The Ohio State University campus and you'll see motorized scooters. A lot of scooters.
Companies like Lime and Bird have been spreading these electric scooters, which you can rent by the minute, across the country. While they give some Central Ohioans another transportation option, Columbus leaders say scooters fit into a grey area of city law.
They're not quite a bicycle, and not quite a Vespa. So, City Attorney Zach Klein says, they're letting riders use both the sidewalk and the street.
"There's a lot of ambiguity and conflicting statements between city and state law, and we think the best course of legal action because of that uncertainty is to treat them more broadly," Klein says.
Klein is quick to point out that Columbus City Council is considering adopting rules for motorized scooters, although no details have been released. Already, some communities, including Bexley, have banned motorized scooters from their sidewalks.
Part of the perk - or nuisance - of the scooters is that riders can leave them anywhere. Unlike the CoGo bike share program that also operates in Columbus, the scooters don't need to be picked up or dropped off at designated stations. Riders just need to download an app to unlock the scooters, for about $1, and pay 15 cents a minute to ride.
If you pick up a Lime scooter without unlocking it, however, the alarm blares, "Unlock me to ride, or I'll call the police." Lime says the feature doesn't actually call the police, though.
As NPR reports, "In recent months, the hashtag #ScootersBehavingBadly has popped up, featuring scooters across the country parked in pedestrian walkways or riders speeding through while wearing headphones. Milwaukee issued a cease-and-desist order, but Bird refused. The case is now in federal court."
Klein says his office has received some complaints about scooters, as well as some praise.
"People are developing what seems to be, initially, a love/hate relationship with the scooters. Because there are some people that certainly love them and find them a very attractive mode of transportation, but there are also people that do find them frustrating," Klein says. "I think the big thing is exercising common sense."
Klein says although scooters are allowed both on the road and sidewalk, it's still possible for riders to violate other laws such as drunk driving or reckless operation of a vehicle.