Teamsters' Vigil Continues Pressure On Cardinal Health Over Opioids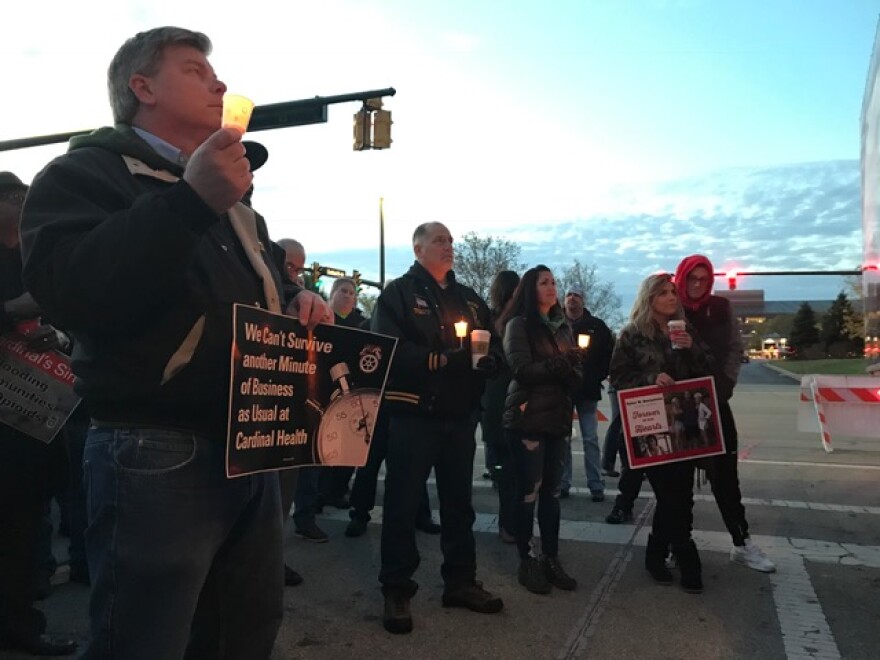 The International Brotherhood of Teamsters continued its pressure on Dublin-based drug distributor Cardinal Health Wednesday morning with a vigil to call attention to Cardinal's role in the opioid crisis.
Before dawn, about 75 Teamsters and their supporters held candles to honor those who've died or are still struggling with addiction. The vigil came two hours before Cardinal shareholders were scheduled to meet.
The union's pension fund is a major investor in Cardinal and has been critical of how the company distributed millions of painkillers into some of the areas hit hardest by the drug epidemic.
"They're drowning our communities in opiates," said union member Travis Bornstein, who lost his son Tyler to a drug overdose. "I want to hear them say that they're responsible for this. Not them all by themselves, but they shared a part in this, to create the worst drug epidemic in the history of our country."
The Teamsters union also wants to establish an independent committee to investigate the company's business practices.
The Wednesday vigil came less than two days after Cardinal CEO and chairman George Barrett told investors he was handing the CEO title over to Cardinal's Chief Financial Officer Mike Kaufmann.
Cardinal is the target of lawsuits by several Ohio cities and other states, but has not been sued by the state of Ohio. State officials say they're still investigating possible legal action against drug distributors.
Cardinal officials have repeatedly blamed the opioid crisis on doctors who overprescribed painkillers.
"As a wholesale distributor, we do not manufacture, promote, market or prescribe these drugs," Barrett said in an earnings call on Monday. "We do, however, take very seriously our responsibilities to serve our healthcare system. Our anti-diversion systems and controls are substantial, they are well-funded and they are best in class."