Rover Pipeline Fights Back Against Ohio EPA, As Investigations Into Spill Continue
The site of what's alleged to be a 2 million-gallon spill of drilling mud is now just a quiet spot along the towpath trail south of Canton.
There's remnants of the cleanup work across the river: gray fencing snakes through the woods and a layer of what looks like wood chips covers a few acres of otherwise empty woods. A black tube hangs loosely over the river, held up by some metal wire and winches.
This is just a tiny stretch of the Rover Pipeline's path. In total, it's a 700-mile natural gas pipeline that passes through four states. But what happened here in April temporarily delayed the project and may change the way Ohio regulates interstate pipelines.
It's been six months since drilling mud leaked into Ohio wetlands during construction of the $4 billion pipeline. Energy Transfer Partners, Rover's parent company, is refusing orders from state regulators to pay a $2 million penalty, but the dispute between them and the Ohio Environmental Protection Agency goes even deeper.
"Rover is a true outlier for us," says Craig Butler, director of Ohio EPA. "We think they're just in blatant disregard for our environmental laws. We think they were rushing to get the project put in. And the environmental consequences did not matter."
Initially, the drilling mud, which is used to ease the path as a drill bit bores under sensitive areas like rivers and highways, was not considered a hazard. It was reported as a mixture of clay and water. As part of the cleanup, Rover disposed of it without much oversight.
According to Butler, samples of the mud taken by EPA at the time of the spill were later found to contain diesel fuel.
This was a surprise to Matt Ramsey, the chief operating officer of Energy Transfer Partners.
"As we made very clear, we do not know the source of the diesel in the drilling mud," Ramsey said during an August call with investors. "There's been a lot of theories put out there about it but we absolutely do not know the source of it."
In filings with the Federal Energy Regulatory Commission, or FERC, the company argued the diesel could have gotten there from machinery used in the cleanup. Or maybe sabotage by an opponent of the project.
The company responded to requests for comment by referring to their public filings with FERC.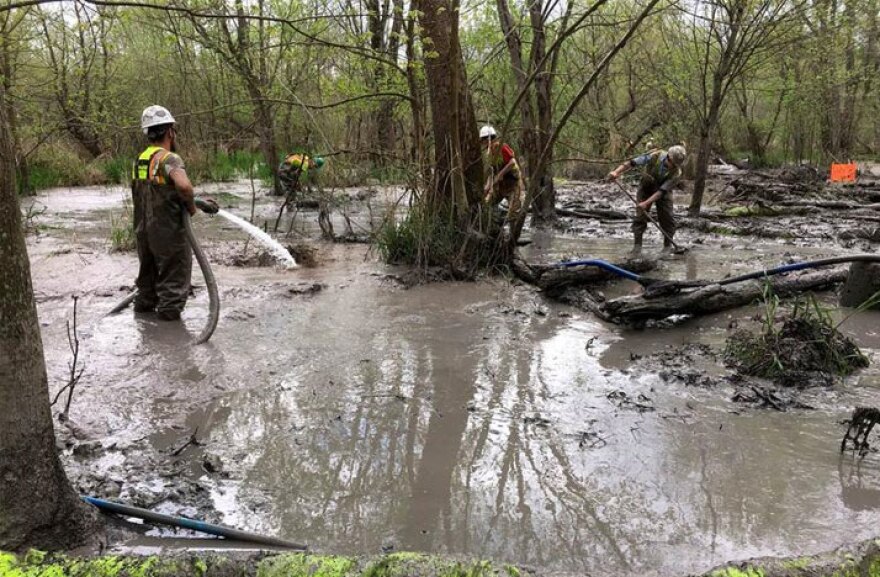 One thing is for sure: Diesel fuel was never supposed to be in there. By the time it was found, the mud had been dumped in two nearby quarries, described by Rover in documents as abandoned.
"One way or another, it ended up being pumped and hauled out of the wetland where they were told to remove it from and dumped in our backyard, unfortunately," said Tyler Converse, superintendent of Canton's Water Department.
One of the quarries Rover used to dump the mud is close to a water source for the City of Canton, so the water department closed off part of the wellfield there.
Converse says they began pulling more water from another source, which caused discolored water in one neighborhood.
"Of course, that's completely unacceptable to us, and it's unacceptable to our customers in that area as well," Converse says.
Rover did not provide daily records of the chemicals it added to the mud, and FERC is investigating how the diesel got there.
An independent engineering company was also hired to look into the cause of the original spill. That report says if Rover released two million gallons of drilling mud – as Ohio EPA says – Rover would have spent three or four days pumping mud after the spill began.
Rover disputes this estimate, saying it's likely much less mud was released.
"And so, yes, it's an extraordinary circumstance that we find ourselves in," Butler says. "More than anything, we're really disappointed that they continue to not want to be good corporate partners in Ohio."
Butler says his agency is changing the way it regulates pipelines now. Ohio EPA required more specific plans in case of a spill before approving another interstate pipeline – Nexus.