Protesters Hold Die-In Outside Portman's Office Over GOP Healthcare Bill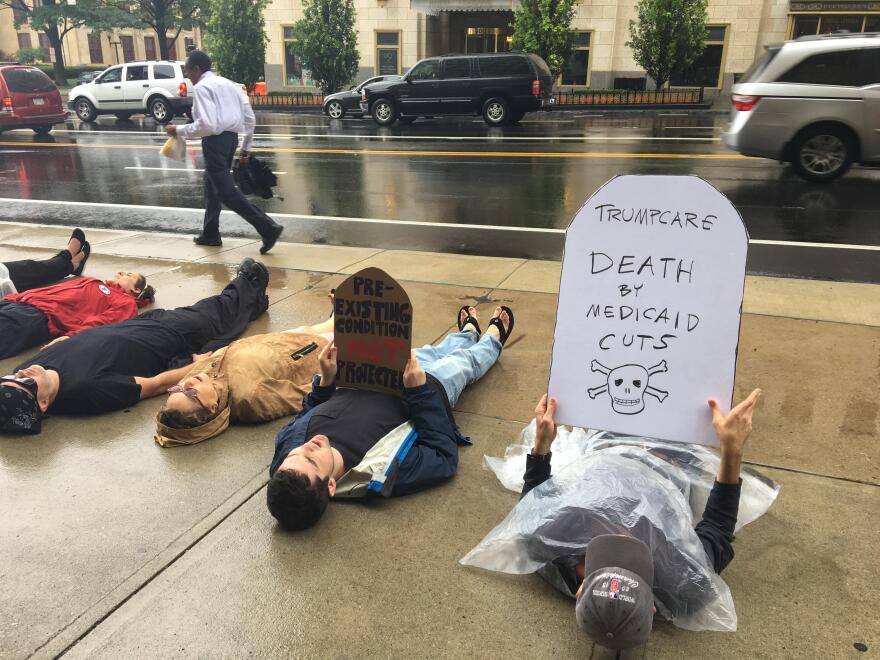 On Friday, protesters held a die-in outside of Senator Rob Portman's Columbus office after Senate Republicans released their long-awaited bill repealing much of President Obama's health care law.
Despite heavy rain, dozens of protestors lay on the sidewalk off West Broad Street in downtown Columbus. While gripping ponchos and umbrellas, many held signs reading "RIP America" and "This Bill Will Kill Us."
The protestors are concerned about many changes outlined in the Senate's bill, primarily the large cuts to Medicaid. Medicaid expansion in Ohio has granted health care coverage to 750,000 low-income Ohioans, which could be lost if the bill is passed.
Protestor Mindy Hedges, who was born with Type One diabetes, said she was unable to afford insurance until the Affordable Health Care Act was passed. She says the new GOP bill threatens to increase the cost of her coverage to a point where she cannot afford it.
"I won't be able to pay for my insulin or anything else for my health coverage, and I'm scared," Hedges said.
Portman was one of 13 senators selected to draft the bill. In a statement on Thursday, he said the new bill could bring reduced premiums for individual insurers.
But Portman also said he was concerned about Medicaid policies in the bill, especially those that impact addiction treatment as Ohio faces a drug epidemic.
If the final legislation is not good for Ohio, Portman says he won't support it.