ECOT Founder Rallies Supporters, Defends School at Statehouse Rally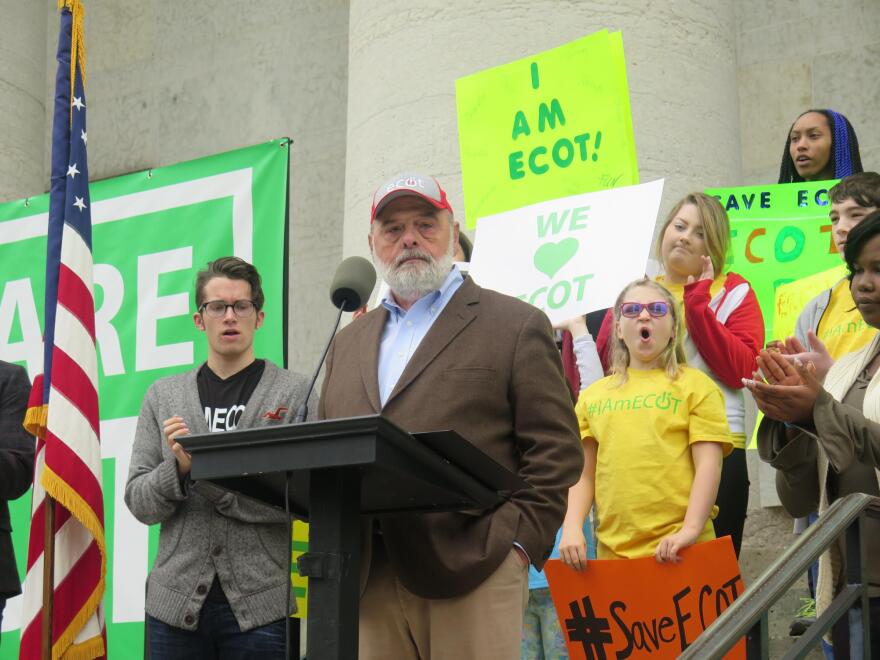 The battle between the state and its largest online charter school brought supporters of the Electronic Classroom of Tomorrow, or ECOT, to the Statehouse on Tuesday to show support for the school locked in a fight with the state over tens of millions of dollars.
Hannah Sims of Wapakoneta is about to turn 10 years old, has ADHD, and is an enthusiastic ECOT student.
"ECOT helps me understand my homework a lot better, because in a building school I could not – I could not. I would get Fs every single day," Hannah said.
As Hannah prepared to lead the crowd at the rally in the Pledge of Allegiance, her mother Denise talked tearfully about her decision to show support for ECOT.
"It's not about the money, it's about our kids. And it's about every family has their own unique reason why they choose ECOT, and my story may be completely different from someone else. But we all matter. These children matter, and getting their education is what's important. Not the money."
Thousands of families choose ECOT; if it were a school district, it would be the ninth-largest in the state. But its actual enrollment numbers have been contested by its critics, who also note its poor graduation rate, and by the Ohio Department of Education, which wants ECOT to track students by their logins.
A judge ruled ECOT needs to return $60 million in state funding after an ODE audit showed ECOT had only about 40 percent of the student enrollment it claimed.
ECOT has pushed back, saying that ODE overstepped its authority by changing the way it has interpreted state law. And school officials have said there's more to education than time online, and that thousands of students are enrolled in online programs that have servers that aren't equipped to measure online time.
ECOT board president Andrew Brush told the crowd that the school is unfairly under attack to protect what he calls the traditional educational industrial complex.
"Quality education has never been about time anyway. If you want proof, just look at some of the graduates of chronically failing traditional schools. They may have had the seat time in school, but some of them can barely read," Brush said.
"Quality education is measured in competence and mastery, not hours and minutes."
ECOT has a graduation rate under 40 percent, and claims to graduate more students than any other school in Ohio. But Columbus City Schools and Cincinnati Public Schools have more graduates.
And while ECOT does have a large number of graduates each year, federal data shows more students drop out of ECOT than any other school in the country.
ECOT has been lobbying hard for itself through taxpayer-funded ads featuring students. But one person not often heard from is ECOT's founder Bill Lager.
Lager, who's donated millions to mostly Republican lawmakers and candidates, rarely makes public appearances, but he spoke at the Tuesday rally.
Lager said every family in Ohio knows a child who wants an education outside of a traditional public school.
"That's what ECOT is. That's what ECOT always will be," said Lager.
Lager was emotional as he described creating the school to help kids who are chronically ill or have trouble learning. And he blasted the state when saying ECOT fits in with the predictions from his favorite book, Alvin Toffler's "Future Shock".
"And yet here we are, seventeen years later from 2000, trying to explain to the traditional 1850s school board that that's the way our kids want it," Lager said.
Buses were provided to take students from ECOT's Columbus offices to the Statehouse. There were reports that teachers were required to attend the rally, but several teachers at the event denied that and the school said attendance was voluntary.