Investigation Continues Into Columbus Officer Who Kicked Suspect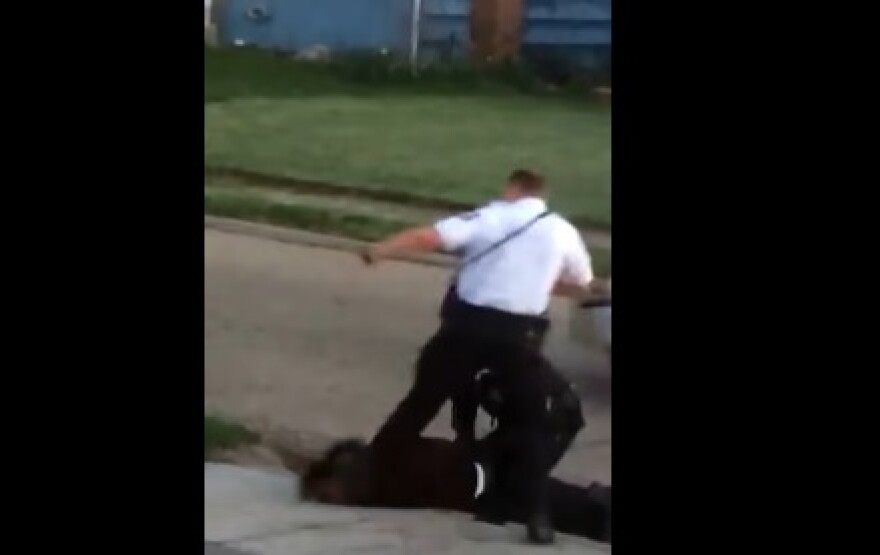 Officer Zachary Rosen remains on non-patrol duties as Columbus Police and city leaders investigate circumstances surrounding a video showing Rosen kicking a suspect.
The video captured officer Rosen kicking the suspect, who was handcuffed and on the ground, in the head. Rosen was also involved in the fatal shooting of Henry Green last summer, though a grand jury recently declined to indict him.
In a statement issued Tuesday, Green's family said the video brought back long-held concerns about Rosen's "unchecked aggressions."
"Perhaps with more accountability, Officer Rosen would think twice before stomping on the head of a citizen, retaliating against a citizen out of anger or shooting a man 15 times without provocation. The next swift action taken by Mayor Ginther and Chief Jacobs should be to fire Officer Zachary Rosen."
Columbus Police reassigned Rosen following the incident, which he self-reported before the video emerged, but say that's all they will do while they investigate.
"There's a lot of violence in that particular area where he works. And he tries everyday to, you know, respond to calls to help people," says Columbus Police chief Kim Jacobs. "So we will look at this particular case with the information we have at hand that we're able to us."
Rosen's actions were captured by Roi-Esha Pettiford, who lives in Columbus near the intersection of Maize Rd. and Weldon Ave. and recorded the encounter on her cellphone.
"As the cop's telling us to come back in the house because we were standing on the porch, I just then pulled out my phone and another cop came running from around the corner, came running full-force, and when he got up to the dude, just kicked him in the face or the neck or something," Pettiford says of the encounter.
Jacobs says she can't make any permanent decisions regarding the officer until an investigation is complete.
"If I were to do a permanent reassignment, it could be called discipline, and then that would perhaps negate my ability to do other types of discipline," Jacobs says. "So I have to wait and see."
Police say the suspect, DeMarco Anderson, was possessing crack cocaine and a gun. He is suspected of firing shots into a house the same day the video was taken.
Tammy Fournier Alsaada of the People's Justice Project, which has taken a stand against the shooting deaths of Henry Green and Tyre King, says she's contemplating what needs to be done.
"When I talk about protests, and I'm kind of tired of protesting, I'm talking about having some real conversations that are bigger than who's pushing back or who's fighting with who or how we get to a place of understanding," Alsaada says. "But we're talking about really saving the hearts and the souls of this city."
Jacobs says she hopes the investigation will wrap up within two weeks.
Correction: An earlier version of the story included an image of a house not involved in the incident.