Columbus Officer Reassigned After Kicking Handcuffed Suspect In Head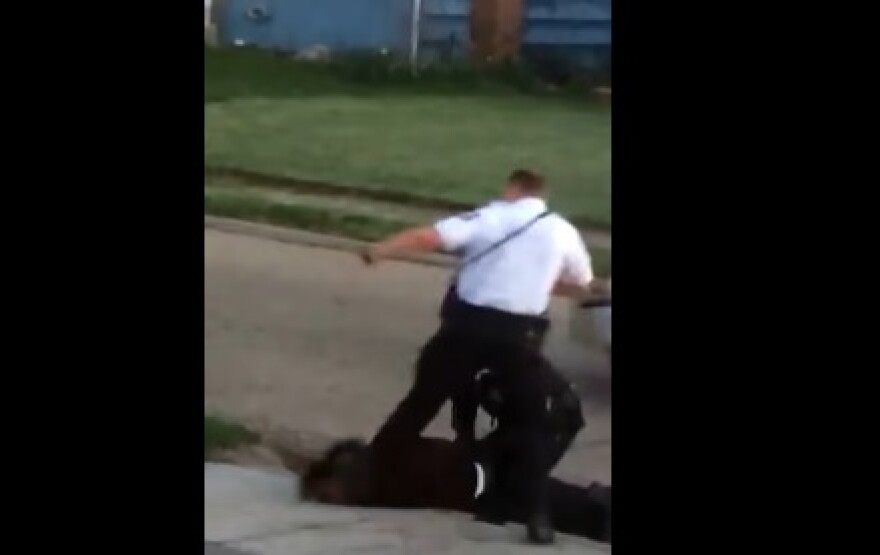 A Columbus Police officer has been reassigned to nonepatrol duty indefinitely following investigations of an incident caught on camera. The cell phone video shows the officer kicking a handcuffed suspect in the head.
The video shot last weekend outside a North Linden home shows officer Zachary Rosen on top of Demarko Anderson, who police say was found to be carrying crack-cocaine and a gun.
A few seconds into the video, officer Rosen approaches Anderson and kicks or stomps on his head before kneeling on him.
Anderson can be heard shouting "Are you serious? I got cuffs on."
https://www.youtube.com/watch?v=JSbfhJqIhDQ
The Columbus Division of Police say Rosen self-reported the incident. Later, the department condemned his actions in a statement.
The action taken by one of our officers does not meet the standards by the Columbus Division of Police. It appears to be inconsistent with the values and training we instill in our officers.
Mayor Andrew Ginther also made a statement and called the video disturbing.
"The behavior we saw in the video was unacceptable and inconsistent with our values as a community. It erodes the trust the residents of this city place in law enforcement."
A grand jury recently declined to indict Rosen and Officer Jason Bare for the 2016 fatal shooting of Henry Green. In 2016, Green was fatally shot by officers in the Linden neighborhood. Police say the young man reached for his gun when he was approached by undercover police.
A press conference at City Hall with Ginther and Columbus Police chief Kim Jacobs is scheduled for Tuesday at 3 p.m.