The NFL announces its MVP Thursday night. Could it be Joe Burrow?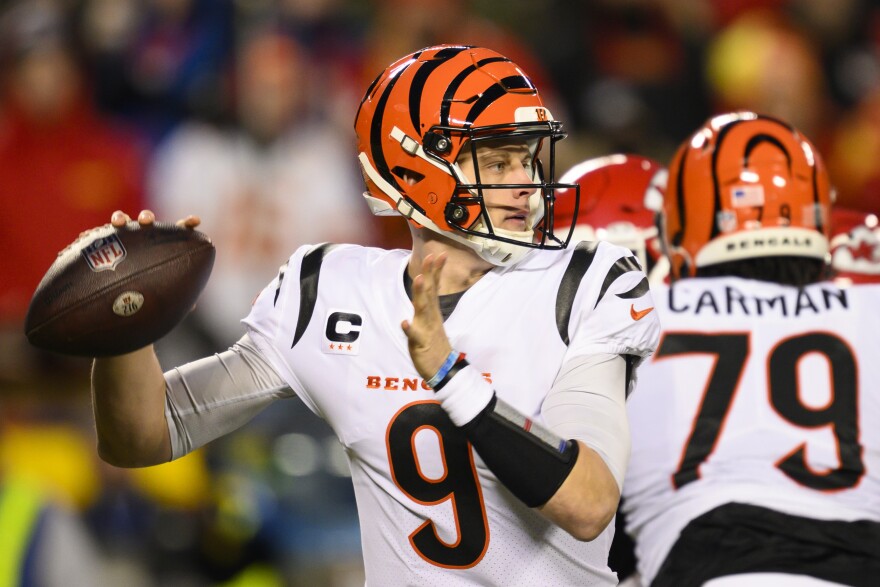 Cincinnati Bengals quarterback Joe Burrow may not be Super Bowl-bound this year, but he is up for the NFL's Most Valuable Player Award — the first such nomination for the 26-year-old. Burrow is nominated along with four others: Bills QB Josh Allen, Eagles QB Jalen Hurts, Vikings wide receiver Justin Jefferson and Chiefs QB Patrick Mahomes.
So, what are his chances of taking home that title?
"Pat Mahomes is probably going to be your MVP," said Chick Ludwig, sports talk show host for iHeartMedia's 700 WLW. He says Mahomes is "a flat-out Superman on a very, very good team."
But, he adds, this likely isn't the last time we'll see Burrow's name on this list. When the Bengals went to the Super Bowl in 2022, Burrow won the NFL's Comeback Player of the Year award.
The NFL's MVP player is usually the most critical player on a successful team, and, Ludwig said, "Joe belongs in that conversation."
RELATED: The Joe Burrow Effect: How the Bengals quarterback is changing the team and Cincinnati
"Joe, in his two years here, he's thrust himself into the upper echelon of quarterbacks in the NFL, so he's definitely in the conversation for a future MVP," Ludwig said, even going so far as to say his rise is one of the greatest in NFL history.
"He's the most critical player on a team that has overcome so much adversity when you look at this season. [The players] raised their game. And he's the reason why."
But even if Burrow does, in fact, win MVP during Thursday's NFL Honors ceremony, he may not be happy about it. Burrow told Sports Illustrated in December he'd "rather have" the Super Bowl title than the MVP title.
"If you win it and you go to the ceremony, you're usually not in the Super Bowl," he told the outlet. "Because if you're in the Super Bowl, you're preparing and sitting in the hotel, so I'd rather have that one."
Not to mention, if and when Burrow does win a Super Bowl, he will make history.
LISTEN: Discussing the Bengals' past, present and future
"If he ever wins a Super Bowl, he will be the first quarterback in history to win a national championship, win a Heisman Trophy and be a first overall draft pick in the NFL and win a Super Bowl," Ludwig said. "His rise, his story, is fairytale, unbelievable stuff."
Winners will be announced at the NFL Honors ceremony Thursday, Feb. 9 at 9 p.m., which will air live on NBC, Peacock and the NFL Network.